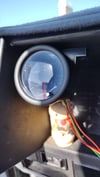 Need to add a gauge but don't want to make any extra holes in your interior?
WELL, this is the perfect product for you!!
This pod accepts your standard 52mm aftermarket gauge, and mounts to the top of your AE86 cluster bezel using one of the 3 existing holes!! All you need is a longer screw which will be included.
Fits very well on the left side, however you can use whichever hole suits you best 😉
*Designed around a Glow Shift brand gauge, but should work with most aftermarket 52mm gauges. If you have any questions, please don't hesitate to reach out to us via email ([email protected])
**This is a FDM 3D printed part, layer lines will be visible.
***Gauge not included